Dr. Will Hossack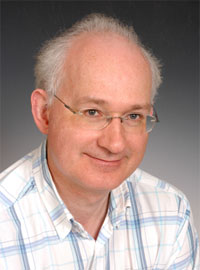 Position:

SENIOR LECTURER

Research Theme:

Institution:

Edinburgh

Email address:

Website:

Telephone number:

+44 (0)131 650 5261

Address:

School of Physics and Astronomy, James Clerk Maxwell Building, Peter Guthrie Tait Road, Edinburgh, EH9 3FD, United Kingdom
Research interests
My research interest on optical system, diffractive optics and the use of LCOS microdisplay as real time holographic components. I am part of the COSMIC imaging centre working on laser scanning bio-imaging systems.
Teaching
I have  a range of subjects across the physics degree programme.
I am currently teaching
Physics 1A (Momentum and Energy) at Level 8 (first year)
Physics of Fields (electromagnetism) at Level 8 (second year)
Python programming at Level 8 (second years)
I also sit on multiple committees at College and University level associated with teaching and programme delivery.
Research outputs
P-142L: Late-News Poster: Time of Flight Based 3D Image Sensing Using Holographically Projected Structured Illumination

DOI

,

SID Symposium Digest of Technical Papers

,

43

,

1

, p.

1151-1154

(2012)

Changes to lipid droplet configuration in mCMV-infected fibroblasts: live cell imaging with simultaneous CARS and two-photon fluorescence microscopy

DOI

,

Biomedical Optics Express

,

2

,

9

, p.

2504-2516

(2011)

Intracellular imaging of host-pathogen interactions using combined CARS and two-photon fluorescence microscopies

DOI

,

Journal of biophotonics

,

3

,

3

, p.

138-146

(2010)

Time-Multiplexed Laguerre-Gaussian holographic optical tweezers for biological applications.

DOI

,

Optics Express

,

14

,

7

, p.

3065-3072

(2006)

Multiple trap Laguerre--Gaussian holographic optical tweezers using a multiplexed ferroelectric SLM

DOI

(2006)

Spherical aberration correction for optical tweezers

DOI

,

Optics Communications

,

236

,

1-3

, p.

145-150

(2004)

Spherical aberration correction for optical tweezers

DOI

, p.

410-418

(2004)

SPICE modelling of ferroelectric liquid crystal on silicon microdisplays

,

5181

, p.

144-153

(2003)

An improved SPICE model for Ferroelectric Liquid Crystal microdisplays

, p.

148-152

(2003)

Antiferroelectric liquid crystal on silicon

DOI

, p.

196-205

(2000)
Last updated: 19 Feb 2018 at 21:11