Prof. Philip Clark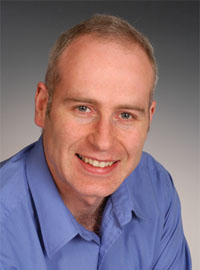 Position:

Personal Chair in Experimental Particle Physics

Research Theme:

Research Group:

Institution:

Edinburgh

Email address:

Website:

Telephone number:

+44 (0)131 650 5231

Address:

School of Physics and Astronomy, James Clerk Maxwell Building, Peter Guthrie Tait Road, Edinburgh, EH9 3FD, United Kingdom
Research interests
Prof Clark's research interests are the major unsolved questions in particle physics: the properties of the recently discovered Higgs boson  and the nature of the fundamental particle mass generation mechanism.
CP violation (matter-antimatter asymmetry) and understanding the rare decays of particles created in particle accelerator collisions, are additional long-term interests.
He is interested in new computer architectures, particularly the advent of many-core and GPGPU (General-Purpose Computation on Graphics Processing Units) devices.
Previously he led the Edinburgh GridPP (Computing Grid for Particle Physics) effort and was Chairman of the ScotGrid Tier-2 compute and data centre.
He created the University's research programme in the ATLAS experiment at the Large Hadron Collider at CERN in Geneva, where he currently holds a CERN associateship.
Teaching
Introduction to Java Programming (MSc)

Research Methods: Introduction to Maple (3rd & 4th year)

Physics 2A: Forces, Fields & Potentials (2nd year)

Physics 1B: Nuclear, Particle and Astrophysics (1st year)
Last updated: 06 Mar 2019 at 10:01