Prof. Philip Best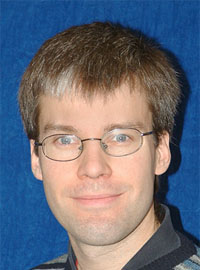 Position:

Personal Chair in Extragalactic Astrophysics

Research Theme:

Institution:

Edinburgh

Email address:

Website:

Telephone number:

+44 (0)131 668 8358

Address:

Institute for Astronomy, Royal Observatory, Blackford Hill, Edinburgh, EH9 3HJ, United Kingdom
Research interests
Observational cosmology, studies of galaxy formation, and the high redshift Universe.
Active galactic nuclei (AGN), in particular their host galaxies, and their influence on galaxy evolution.
Radio astronomy, the cosmic evolution of radio sources, their growth, and radio source shocks
Star-forming galaxies at high redshift, and the star-formation history of the Universe
Clusters and groups of galaxies, and the effect of environment on the nature and properties of galaxies.
Teaching
I have designed, organised and lectured a number of different courses, from pre-honours to Masters level, as well as serving on the School's Teaching Committee for five years, and being Senior Director of Studies of four years. Currently, I organise and lecture the pre-honours course "Discovering Astronomy" and the Senior Honours level course "High Energy Astrophysics" as well as supervising Senior Honours and Integrated Masters projects. I am the Admissions Officer for the School, and Chair the School Board of Studies.
Research outputs
Blazars in the LOFAR Two-Metre Sky Survey First Data Release

DOI

,

Astronomy & Astrophysics

(2019)

Calibrating the relation of low-frequency radio continuum to star formation rate at 1 kpc scale with LOFAR

,

Astronomy & Astrophysics

(2019)

LOFAR observations of the XMM-LSS field

,

Astronomy & Astrophysics

(2019)

,

Astronomy & Astrophysics

(2019)

,

Astronomy & Astrophysics

(2019)

,

Astronomy & Astrophysics

(2019)

Radio-loud AGN in the first LoTSS data release

,

Astronomy & Astrophysics

(2019)

The environments of radio-loud AGN from the LOFAR Two-Metre Sky Survey (LoTSS)

DOI

,

Astronomy & Astrophysics

(2019)

The LOFAR Two-metre Sky Survey - II. First data release

DOI

,

Astronomy & Astrophysics

(2019)

The LOFAR Two-metre Sky Survey IV. First Data Release

DOI

,

Astronomy & Astrophysics

(2019)
Last updated: 19 Feb 2018 at 21:11