Dr. Job Thijssen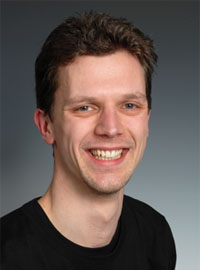 Position:

Chancellor's Fellow

Research Theme:

Research Group:

Institution:

Edinburgh

Email address:

Website:

Telephone number:

+44 (0)131 650 5883

Address:

School of Physics and Astronomy, James Clerk Maxwell Building, Peter Guthrie Tait Road, Edinburgh, EH9 3FD, United Kingdom
Research interests
Dr. Thijssen is a postdoctoral research fellow developing soft materials, e.g. pastes and gels, for energy applications. He is an experimental physicist and materials scientist with a background in photonic colloidal crystals, colloids in external fields and (nano)particle-stabilized liquid-liquid composites (e.g. emulsions and bijels). He also has extensive expertise of various characterization techniques including confocal microscopy, light/X-ray scattering, electron microscopy and (interfacial) rheology.
Teaching
Guest lectures on soft materials and/or energy.
Solar Power: SUPA post-grad course.
Probes of Soft Matter: SUPA post-grad course.
Macromolecular Physics.
Research outputs
Thiourea Bismuth Iodide: Crystal structure, Characterization and High Performance as an Electrode Material for Supercapacitors

DOI

,

Batteries & Supercaps

(2019)

Particle-Stabilized Janus Emulsions that Exhibit pH-Tunable Stability†

,

Chemical Communications

(2019)

Facile synthesis and characterization of Bi13S18I2 films as a stable supercapacitor electrode material

DOI

,

Journal of materials chemistry a

(2019)

Direct transformation of bijels into bicontinuous composite electrolytes using a pre-mix containing lithium salt

DOI

,

Materials Horizons

,

5

, p.

499-505

(2018)

Interfacial rheology of model particles at liquid interfaces and its relation to (bicontinuous) Pickering emulsions

DOI

,

Journal of Physics: Condensed Matter

,

30

(2017)

Hybrid Electrolytes with 3D Bicontinuous Ordered Ceramic and Polymer Microchannels for All-Solid-State Batteries

DOI

,

Energy & Environmental Science

,

11

, p.

185-201

(2017)

Interfacial rheology of sterically stabilized colloids at liquid interfaces and its effect on the stability of Pickering emulsions

DOI

,

Langmuir

(2017)

Quantitative Morphological Characterization of Bicontinuous Pickering Emulsions via Interfacial Curvatures

DOI

,

Soft Matter

,

12

, p.

4082-4092

(2016)

Compressing a spinodal surface at fixed area: bijels in a centrifuge

DOI

,

Soft Matter

,

12

, p.

4375-4383

(2016)

Particle-size effects in the formation of bicontinuous Pickering emulsions

DOI

,

Physical Review E - Statistical, Nonlinear and Soft Matter Physics

,

92

(2015)
Last updated: 19 Feb 2018 at 21:11