Prof. Einan Gardi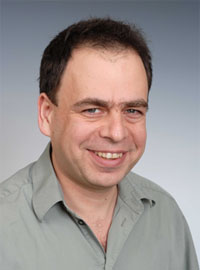 Position:

Personal Chair of Theoretical Physics

Research Theme:

Research Group:

Institution:

Edinburgh

Email address:

Website:

Telephone number:

+44 (0)131 650 6469

Address:

School of Physics and Astronomy, James Clerk Maxwell Building, Peter Guthrie Tait Road, Edinburgh, EH9 3FD, United Kingdom
Research interests
Einan Gardi is well known for his work in perturbative Quantum Chromodynamics, notably in the context of resummation in event-shape distributions and inclusive B decays.  
His recent research activity focuses on the long-distance singularity structure of QCD scattering amplitudes and soft-gluon exponentiation. 
Teaching
Einan Gardi is currenly teaching two courses:
1) Dynamics - a course on Newtonian mechanics using differential equations and conservation laws, taken by all Physics students in their second year (4th semester).
2) Modern Quantum Field Theory - an advanced course on relativistic quantum field theory in its path integral formulation, and renormalization (5th year / Master / PhD)   
Research outputs
Infrared singularities of QCD scattering amplitudes in the Regge limit to all orders

DOI

,

Journal of High Energy Physics

,

1803

,

098

(2018)

Recent progress on infrared singularities

,

Proceedings of Science

,

2018

,

037

(2018)

Diagrammatic Hopf algebra of cut Feynman integrals

DOI

,

Journal of High Energy Physics

,

1712

,

90

(2017)

Bootstrapping the QCD soft anomalous dimension

DOI

,

Journal of High Energy Physics

,

1709

,

73

(2017)

The algebraic structure of cut Feynman integrals and the diagrammatic coaction

DOI

,

Physical Review Letters

,

119

,

051601

(2017)

Cuts from residues: the one-loop case

DOI

,

Journal of High Energy Physics

,

1706

,

114

(2017)

Two-parton scattering in the high-energy limit

DOI

,

Journal of High Energy Physics

,

2017

,

16

(2017)

Long-distance singularities in multi-leg scattering amplitudes

,

LL2016

(2016)

Three-loop corrections to the soft anomalous dimension in multi-leg scattering

DOI

,

Physical Review Letters

,

117

,

17

(2016)

Infrared singularities in multi-leg scattering amplitudes

,

Proceedings of Science

,

LL2014

,

069

, p.

1-16

(2014)
Last updated: 19 Feb 2018 at 21:11